Reception (Birch & Cherry)
At Charlton Primary School we pride ourselves on providing quality learning experiences with a well-qualified, skilled staff who deliver the best possible outcomes for the children in our care. We look forward to welcoming you to our school, and to developing a happy and successful partnership with you and your child.
We recognise every child as being unique.
They each have the right to the best possible start in life in an environment that will allow them to fulfil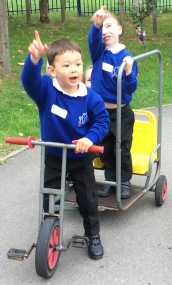 their potential.
Our Reception classes provide them with a secure, safe and happy start to their school life. This, complimented by good parenting, gives your child the opportunities to make the most of their abilities and talents as they grow up.
Useful Resources for Parents and Carers
A link to a useful guide to getting letter sounds and pronunciation correct is here.
Two recommended sites for helping parents to develop their child's communication and language skills are the BBC's Tiny Happy People and the Government's Hungry Little Minds
Uniform for Reception children is the same as for Years 1 to 5, but please ensure clothes are suitable for outside play and learning.
Clothing and uniform
Reception children are encouraged to use the outside space in all weathers. Please provide hats and gloves for colder weather and sun hats for warmer weather. Children will need a weather appropriate coat or jacket with them every day. Smart, plain, jogging bottoms in navy or black may be worn instead of 'uniform' trousers. We would also appreciate a set of spare clothes to be kept in school, for incidents where children need changing. Shoes should be well-fitted, with a good grip, to enable children to use the outside climbing apparatus safely. Sandals or Crocs are not safe for play activities in the Reception Unit.
In winter, all pupils should have a warm and waterproof coat available in school.
Reception children do not need a change of shoes for indoors. Parents are asked to bring well-fitting trainers/ plimsolls once they start to change for PE (in the summer term.) A stock of wellies and spare shoes are kept in school for emergencies! On occasions when different footwear is required e.g. Forest School, a letter will be sent home.
Click here to access PMG School Wear

Starting school
This is a great website to help prepare your child for starting school.
Another useful guide for you to look at is What to expect, when?
We have prepared a short video for you to share with your children:
At the bottom of this page, you will also find a short informative document which includes further key information about starting in Reception at Charlton.
How do we assess children's progress in Early Years?
At Charlton, we use the Statutory Framework and Development Matters to underpin our teaching and learning provision. A link to this document can be found on our Foundation Stage section.
We use Tapestry as our online learning journal record and inform. This provides us with a valuable link between home and school.
Assessment plays an important part in helping parents, carers and staff to recognise children's progress, understand their needs, and to plan activities and support. Ongoing assessment is an integral part of the learning and development process. It involves us observing children to understand their level of achievement, interests and learning styles, and this enables us to support the learning needs of each unique child.

Through interactions with children, our team will respond to their own day-to-day observations about children's progress and observations that parents and carers share.
Within the first few weeks, a baseline assessment is completed. Regular progress checks are used to inform and prepare the children for their next phase of learning.
In the final term of the year in which a child reaches age five, and no later than 30 June in that term, the EYFS Profile is completed for each child. The Profile provides parents and carers, and the Reception team with a well-rounded picture of each child's knowledge, understanding and abilities, their progress against expected levels, and their readiness for Year 1. The Profile reflects the following: ongoing observation; all relevant records held by the setting; discussions with parents and carers, and any other adults whom the teacher, parent or carer judges can offer a useful contribution.
Each child's level of development is assessed against the early learning goals. Teachers will indicate whether children are meeting expected levels of development; if they are exceeding expected levels or not yet reaching expected levels ('emerging'). This is the EYFS Profile.
Year 1 teachers will be given a copy of the Profile report together with a short commentary on each child's skills and abilities in relation to the three key characteristics of effective learning. These will inform a dialogue between Reception and Year 1 teachers about each child's stage of development and learning needs and assist with the planning of activities in Year 1.
As a school we will share the results of the Profile with parents and/or carers, and explain to them when and how they can discuss the Profile with the teacher who completed it.
Our Early Reading Approach
Our approach to teaching reading is underpinned through the use of the Little Wandle Letters and Sounds Scheme. Please click here to learn more
Key Documents
Read What to Expect in the Early Years here!
For the link to the Statutory Framework for the Early Years Foundation Stage: Setting the standards for learning, development and care for children from birth to five, click here
Read 50 Things to do before you're 5 by clicking here
Further information about what your child will be learning can be found here