Art & Design
Being an Artist and a designer
"Art washes away from the soul the dust of everyday life."
Pablo Picasso
At Charlton, our art and design curriculum is underpinned by our four curriculum drivers: Wonder, Knowledge, Discovery and Responsibility: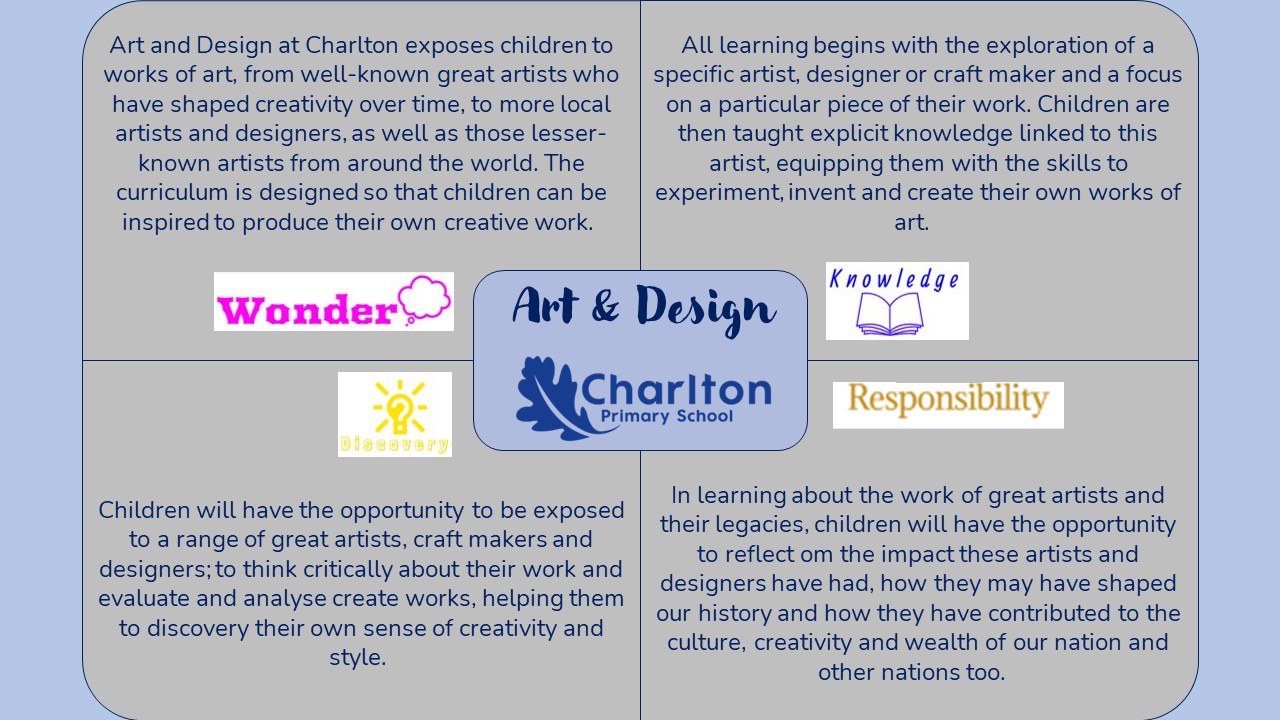 Children begin their formal art and design education at Key Stage 1. However, it is in the early years foundation stage where they initially learn to explore, use and refine a variety of artistic effects to express their ideas and feelings. Over time, our carefully sequenced and progressive curriculum builds on this learning.
Our curriculum is designed so learning about artists, designers and craft makers, their work, inspiration and legacy is at the centre each unit of learning. Substantive concepts are also carefully mapped so that they are revisited throughout children's time at Charlton, meaning that children have repeated encounters with these even as they study different art forms and artists. In addition, children are explicitly taught appropriately challenging vocabulary which is pertinent to the unit of learning.
Our curriculum aims equip children with a rigorous understanding of art and design and for them to become proficient in drawing, painting, sculpture and other art, craft and design techniques and for them to develop skills to that they make express themselves creatively.
The curriculum is carefully sequenced, and all children from Year 1 are provided with their own art journal which travels with them as they progress through the school. This gives a clear view of children's progress over time, and is also a useful reflection tool for them, as they may look back at previous learning and draw on this to inform their current creative work. Thus, providing them with the confidence to tackle more demanding work.
Art & Design Lead - Miss Betsy Caudle